Stylish Workout Clothes that won't break the bank!
Comfort Wearable Art
Our activewear features eye-catching designs and fits comfortably. Don't wait, give them a try today!
Whether you're hitting the gym hard or just working from home, our selection of sports bras and fashion-forward leggings are designed to help you look and feel your best. We use fabrics that fit and perform exceptionally well in all situations because quality is at the core of everything we do. Don't settle for less, elevate your activewear game with Arttico today.
Our fabric stretches and adapts to your body.
* Regular size 6/8.
* Plus Size 12/16.
Shop Now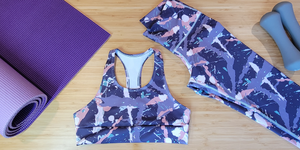 Exclusive Handmade Designs
Discover our stunning collection of Indigenous Bags, each one 100% handmade by the talented artisans of the Wayuu tribe in the arid northern Colombia. With every bag featuring an exclusive design, you can be sure that your accessory is as unique as you are. Our bags are crafted with the utmost care and precision, taking hours of careful tailoring to produce. Featuring authentic Indigenous art, each bag serves as a beautiful expression of culture and tradition, making them the perfect statement piece for celebrating diversity. 
Shop Now